Ok, so I was reading a blog I love (shout out to Dawn!)...and introduced to a new "blog hop". It's called Fo' Realz'.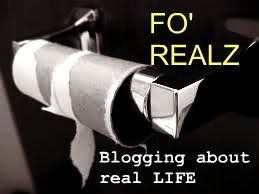 I think I may just put that on a home school spelling test. My kids do always say I have my own "Kat" dictionary.

The challenge is to be real...nitty gritty, totally honest...real. I try not to be imaginary normally, but to spill my guts...hmmmm...

Here it goes. Remember, read at your own risk.

I started writing (ok, some in my mind) about two dozen blogs the last six weeks...from adopting out of birth order, to home school, to just about everything. But I can't...nope, can't do it. I make it half way through and then stop. My brain is a shocking mess. Complete thought? Nope, and I love to write. It's my outlet, but with everything (and I mean EVERYTHING) going on....

I have a list on my refrigerator of about 20 MAJOR things I needed to do this week. Not one of them is done because I decided that this was the week I needed to change the kids rooms. I don't want to start anything until they're done. It doesn't matter that home school starts in less than two weeks...

My washing machine died and we were without one for about two weeks. Right now dirty laundry piles are stacked up in our play area (which was supposed to be a formal dining room...we don't do formal). We're working our way through those and I smell and odd smell, but don't know where it's coming from.

I feel grumpy and tired. I feel like we're waiting for the next thing to hit. Ya, I know it's not right, but somewhere deep inside that's reality. I feel like I'm setting here going...fires, exploding sidewalks, air conditioning in the car breaking, refrigerator breaking, drama, washing machine breaking, illness, lice, loss of a very dear friends mom, my grandma's health deteriorating, waiting for taxes, our computer screen dying, my bro losing his job, the stone from my wedding ring getting knocked out....and on and on and on, all happening this summer....grump, grump, grump, grump, grump....

See, I knew I could do reality...lol.

Really, God is good. That's reality. Hanging tooth and nail to that reality.